I have this quote that I got from my mom, a quote that I like to repeat to others and myself as advice, and that is: You don't have to explain it to smart people, and you can't explain it to stupid people.
It's not about insulting anyone; it's not about actual intelligence because smart people can be stupid and vice versa. It basically means that it's not worth wasting your time and energy on trying to make arrogant and selfish people, who are dumbly convinced about being right (always), see the point. But following that principle, walking away when you realize you're talking to a person that actually shares their IQ with a brick wall is hard to do.
I think it's very challenging to be quiet when you know something is wrong, incorrect, untrue and unjust. I find myself at a crossroads mulling over what my reaction should be. It drives me absolutely certifiably mental to know that speaking up will not bring me, or them, or anyone else involved anything. It won't make the person who is in the wrong see what's right, do what's right, or God forbid, admit their wrongdoing.
I feel a strong sense of justice and it's hard for me to let it go once I find any sort of deception. I'm like a dog with a bone. I want everyone involved to see it, feel it, understand it… I want the culprit to be confronted. Even though speaking up won't bring the results I want, even though it won't affect the future actions of this person, it's so unbelievably hard to choose to ignore it and walk away from it. I want people to know I know they lied. I don't want people that deceive and manipulate people and facts for their benefit to win. And I feel that silence hands them the victory.
No one should be convinced that they know it all. Not a boss or an employee, not an authoritative figure or a subordinate. No one has the right to lie, manipulate facts and people for their benefit. I refuse to stand by and let you do this to me or anyone else. It might make me uncomfortable but I don't care. There is no growth in comfort. 
You might think "What has brought this on?" A person that has a pattern of twisting facts and words to fit their narrative. I've seen it be done to others and now, for the last time, I've had it done to me. I am too far away to deal with this situation face to face but that will change. And once it does… Knock, knock.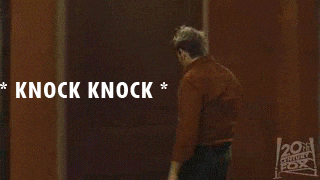 How do you deal with conflict? With people that you think are in the wrong?   Would you rather be quiet and move on? Or would you confront them?